ExxonMobil took part in the 5th China International Diesel Engine Summit with its newly upgraded Mobil Delvac brand of lubricants. The company will present the PC-11 oil specification and two new oil grades CK-4 and FA-4 to the participating governments. Officials, members of the association, equipment manufacturers, institutional experts and industry colleagues made detailed presentations and exchanged views in depth.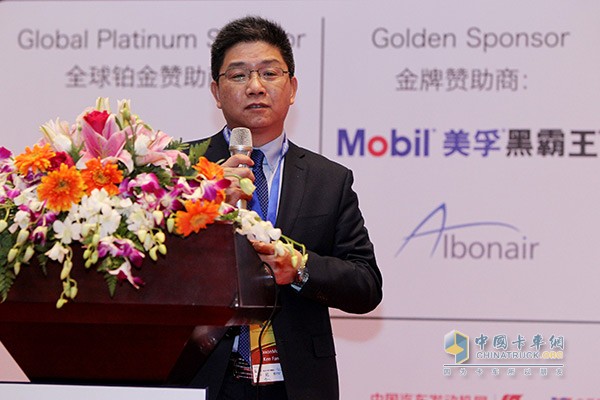 ExxonMobil (China) Investment Co., Ltd. Lubricants Adviser Fang Ming of Commercial Vehicle Manufacturers Introduces PC-11 at the Summit
The new Mobil Black Vault PC-11 oil perfect response to the country five, Beijing VI
The new generation of high-performance heavy duty diesel engine oil specification PC-11, proposed by the American Petroleum Engineering Society (API), will begin certification on December 1, 2016. After this, two new grades of oil CK-4 and FA-4 will be officially put into effect. Compared with traditional CJ-4 engine oil, PC-11 engine oil has high oxidation stability, enhanced shear stability, excellent air release, and can be applied to engines that meet the National Five and Sixth Beijing emission standards.

As an expert in the field of commercial vehicle lubricants, ExxonMobil has worked closely with major automakers and engine manufacturers, and has conducted extensive laboratory and road tests. It has pioneered the introduction of several new and upgraded CKs internationally. The -4 and FA-4 grade products provide superior protection and outstanding performance for the upgraded engine and its exhaust aftertreatment system.
The new Mobil Duracell PC-11 high-performance lubricant has excellent low temperature performance and outstanding high temperature performance. With enhanced additive formulations, the oil can be used under multiple harsh conditions to achieve a longer oil change cycle. This helps to extend engine life and improve overall performance, effectively improving fuel economy and meeting or exceeding OEM requirements.
Exxon Mobil Instills Lasting Impetus for Sustainable Development of China's Road Transport Industry
In 2016, in order to better support the transformation of China's road transport industry, Exxon Mobil has made various breakthrough attempts in various fields, including the two new products listed on the market and the resource integration strategy of the Fourth Party Logistics Platform, as well as The signing and deepening of the cooperation intentions of international vehicle manufacturers will continue to fulfill the promise of "deep China", including:
Two new products: In cooperation with the Chinese government to promote the "green travel" policy, Exxon Mobil launched a 3.5-liter Mobil Dark-Dragon City Star specially designed for light-duty truck drivers, and a dedicated Mobil Black-Overlord super gas engine dedicated to natural gas engine maintenance. oil.
A big cooperation: The alliance between Exxon Mobil and Transchem Logistics, with the help of both parties' superior resources, landed the service on the national road port of Chuhua to help build a new ecology of China's logistics.
Inside and outside the new journey: Exxon Mobil runs through the full range of services from oil supply to technical support, helping China's leading automaker, Sino Heavy Truck, to achieve a new record of 1 million kilometers in 26 months; with the world's largest commercial vehicle manufacturer. Muller Group reached a cooperation intention and became its only after-sale oil supplier in China.
Mileage Breakthrough: ExxonMobil partnered with well-known OEMs in China to provide Mobil Blackhead gas products for natural gas engine models, as well as a full range of test methods such as bench testing and road testing. It has been upgraded from 40,000 kilometers to 60,000 kilometers. With high-quality lubrication capabilities and advanced services to help clean driving smooth China.
In this regard, ExxonMobil (China) Investment Co., Ltd., a commercial vehicle manufacturer lubricants consultant Fang Ming said: "ExxonMobil has nearly a century of professional experience in the development of lubricants and global professional freight expert support, from the oil The full support for the service will help equipment users to face changes from all sides with strong capabilities, and ultimately meet the environmental needs of energy conservation and emission reduction, and will inject lasting momentum into the sustainable development of China's road transport industry."
Control Arm Assy,Suspension Arm Assy,Suspension Control Arm,Adjustable Control Arms
Ruian Korop autoparts limited company , https://www.koropbushing.com