There are many special-purpose vehicle procurement personnel who do not know too much about the difference between the suction trucks and the suction trucks, and therefore do not know what kind of special vehicles to purchase for their own use. In fact, although the suction truck and the sewage suction truck have similar functions, their differences are also relatively large. Below, we will come to the difference between the suction truck and the suction truck.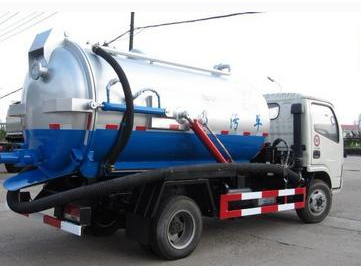 First understand what is a sewage truck. Sewage suction vehicles are all types of special vehicles that are often used by urban sanitation agencies. The sewer truck is a special vehicle used to collect and clean the dirt and sewage on the road. The common sewer trucks on the market have upgraded their skills from traditional vehicle functions. It has adopted the current domestic advanced vacuum pumping technology. , Strong attraction, relatively long suction process, especially for the accumulation of silt, stubborn stains in the sewer, absorption, shipment and draining effect is excellent. Coupled with this type of sewage suction truck model is simple, energy saving and environmental protection, high work efficiency, large body capacity, convenient fortune. After a one-time cleaning, secondary pollution on the road can be avoided. Therefore, they are highly favored by the staff in the urban sanitation field.
Go to understand what is a suction truck. Suction truck vacuum cleaner is still not the same. Vacuum cleaners are used for the cleaning and disposal of dirt and stubborn stains on roads. The suction truck is mainly used for cleaning and excrement disposal in urban septic tanks, sewers, and sewers. After all, it belongs to the type of special vehicle for urban road cleaning. It is used together with common sprinklers and garbage trucks on the market. It is called the three special models for urban sanitation cleaning. For a long time, it has been very much supported and assisted by the relevant national administrative departments. In addition, the biggest advantage of such vehicles is that they do not need to pay vehicle purchase tax in the process of use. Therefore, it can help the urban sanitation department to save a lot of costs and operating procedures.
The suction truck is a necessary special vehicle in the urban sanitation field. There is a certain functional difference between them, but as long as the staff of the sanitation department manages properly, treats differently, and chooses the type of special vehicle that is suitable for us, it can bring great help to the urban sanitation work.
Austempered Ductile Iron is known as the great achievements in recent thirty years in the field of metallurgical casting. It is a kind of engineering material with excellent comprehensive properties, high strength, high wear resistance and good toughness; good self hardening in strong extrusion friction under dry friction under the action of friction is good. It can be widely used in automobile, railway equipment, mining machinery, general machinery, construction of the heavy load, wear parts. Such as: grinding ball and lining board; heavy automobile spring support, crankshaft, gear rack; damping system of the railway vehicle steering wedge, wear plate and wear pin sleeve; general machinery, engineering machinery, gear and other parts of the track plate. It can be widely used to replace steel castings, steel forging, compared with a reduction of both process and save time, and better than the performance of steel castings, forgings.
Austempered Ductile Iron is also referred to as ADI. This material has been developed to offer enhanced strength and wear resistant properties. Impact resistance of Ductile Iron is retained. This material also offers enhanced fatigue properties.
Post casting austempering is an isothermal heat treatment applied to SG Iron materials. The chemical analysis of the SG Iron has to be controlled very carefully to ensure that the maximum mechanical properties resulting from the post casting solution treatment are achieved.
Additions of copper, nickel and molybdenum are made to improve hardenability. Austempered Ductile Iron (ADI casting) is being used for demanding applications and is replacing carbon steel castings and forged components due to the following benefits:
Cost
When compared to carbon steel castings and steel forgings and fabrications ADI – Austempered Ductile iron has a lower manufacturing cost.
Cast ability
ADI has a lower casting temperature than steel and this allows for a superior surface finish and the ability to cast complex shapes incorporating changes of section.
Tensile Strength
1600 N/mm2 can be achieved with certain grades of Austempering Ductile Iron.
Weight Saving
ADI has a lower density than steel. Casting designs incorporate near net shape offering significant weight savings over steel castings.
Improved Noise Damping
The presence of graphite in the Austempering Ductile Iron improves noise damping.
Superior Wear and Abrasion Resistance
The wear characteristics of ADI improve in service. Hardening occurs during normal operational use. Therefore ADI is a perfect choice high abrasion application.
Machining
The ability to cast to near net shape reduces the machining costs of ADI castings when compared to steel products.
As a professional China ADI manufacturer, we can provide various grades of austempering ductile iron according to European EN1564 – 97 and ASTMA897/A897M - 06 American Standard (ADI).
Austempered Ductile Iron
Austempered Ductile Iron Casting,Austempered Ductile Iron,Austempered Ductile Iron Sand Casting,Ductile Iron Castings
A&M Manufacturing Co.Ltd. , https://www.am-casting.com